Cairns Dining - Other great eating spots

A popular locals restaurant on further down the Esplanade at Acacia Court Hotel. There buffet for only $17.50 p.p have locals and visitors lining up. Choose from fresh oysters, prawns, moreton bay bugs and a selection of hot and cold buffets and desserts - all inclusive - leave you absolutely full.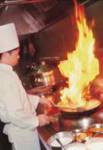 Enjoy an experience like no other, with time honoured Cantonese and Peking cuisine, Yum Cha and noodle artistry.The master chefs of Cafe China are specialists in traditional fare, seafood and other oriental delights. Our wide range of exquisite wines serve to compliment your meal to the fullest. Cafe China is so much more than an authentic Chine..